Now in its eighth year, WuXi Global Forum 2020 will continue to bring together thousands of leaders to promote new thinking on a global stage as we strive to provide transformative solutions for patients.
In order to accommodate the growing number of attendees, the WuXi Global Forum 2020 will take place on Jan 14 at the Hilton San Francisco Union Square and feature an expanded program from 1:00 – 7:00 PM PST.
This invitation-only and complimentary event is brought to you by WuXi AppTec, BayHelix, BioCentury, Biocom, BioWorld, ChinaBio, Children's Tumor Foundation, CLSA, Endpoints News, Fiercebiotech, Informa, MassBio, MBC BioLabs and UK BioIndustry Association.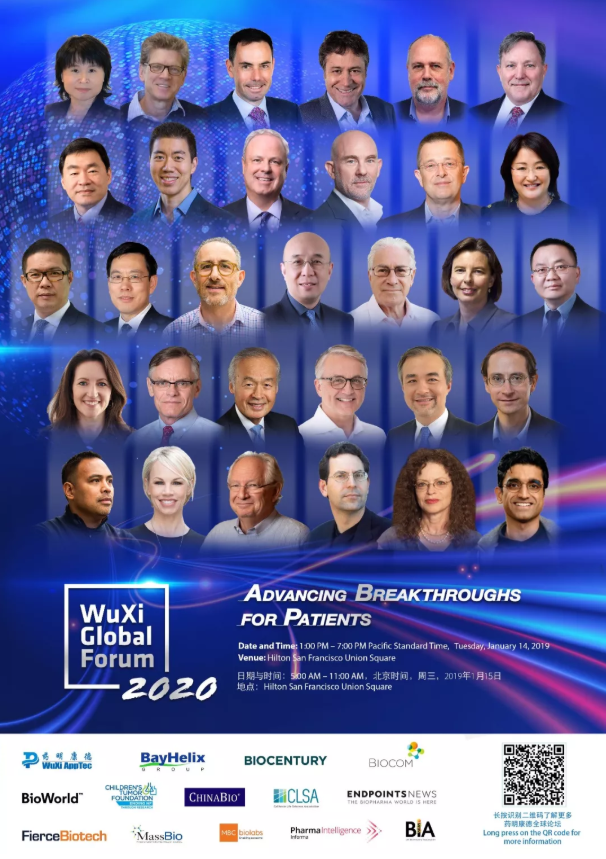 AGENDA
1:00 – 1:30
REGISTRATION and NETWORKING
1:30 – 1:35
WELCOME
Hui Cai, Forum Chair, VP and Head of Content Division, WuXi AppTec
1:35 – 1:45
OPENING REMAKRS
Ge Li, Chairman, WuXi AppTec and WuXi Biologics
SESSION I STATE OF INNOVATION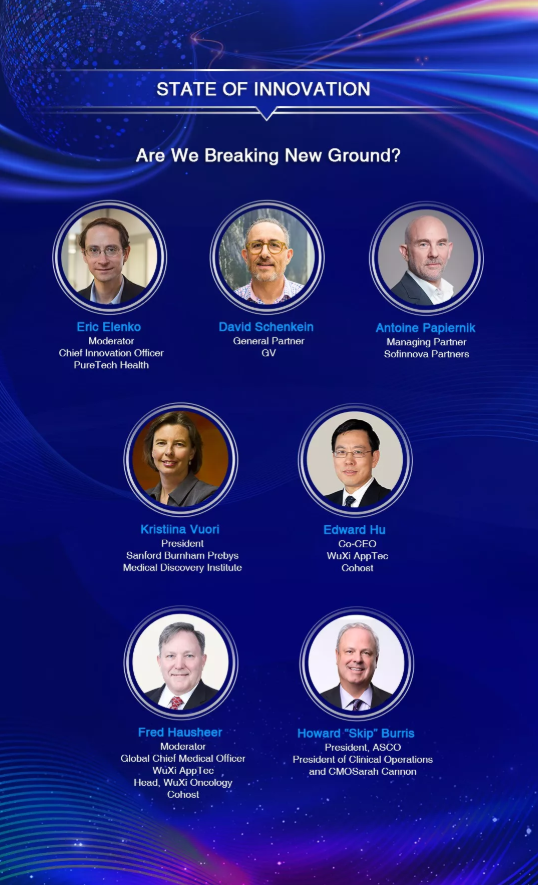 1:45 – 2:30
Are We Breaking New Ground?
David Schenkein, General Partner, GV
Antoine Papiernik, Managing Partner, Sofinnova Partners
Kristiina Vuori, President, Sanford Burnham Prebys Medical Discovery Institute
Edward Hu, Co-CEO, WuXi AppTec
Moderated by Eric Elenko, Chief Innovation Officer, PureTech Health
2:30 – 2:50
A Dialogue with Howard "Skip" Burris, President, ASCO; President of Clinical Operations and CMO, Sarah Cannon
Moderated by Fred Hausheer, Global Chief Medical Officer and Head of WuXi Oncology, WuXi AppTec
SESSION II SPOTLIGHT ON CELL AND GENE THERAPIES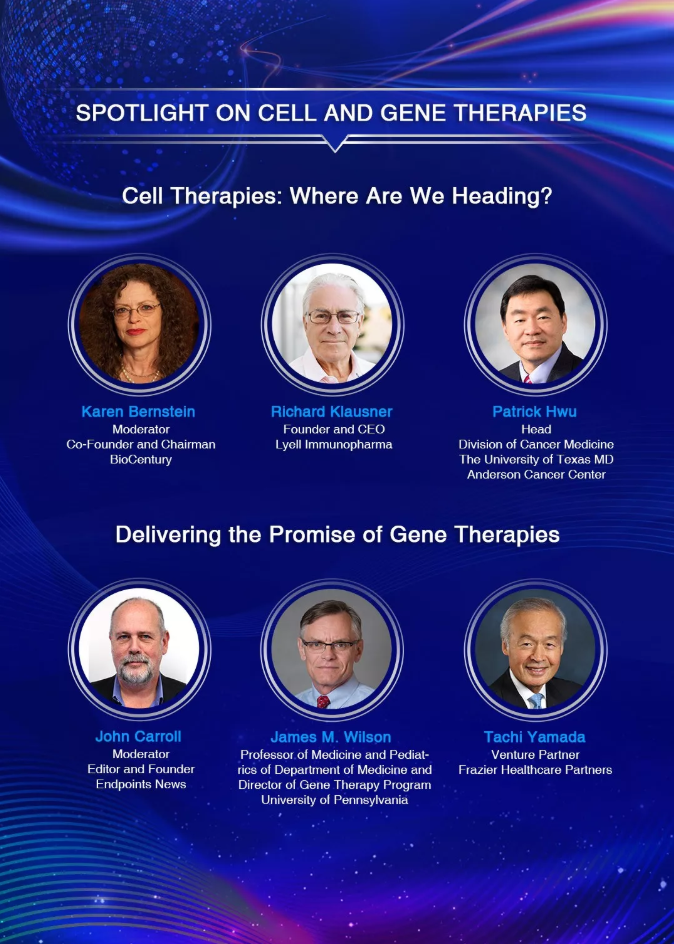 2:50 – 3:20
Cell Therapies: Where Are We Heading?
Richard Klausner, Founder and CEO, Lyell Immunopharma
Patrick Hwu, Head, Division of Cancer Medicine, MD Anderson Cancer Center
Moderated by Karen Bernstein, Co-Founder and Chairman, BioCentury
3:20 – 3:50
Delivering the Promise of Gene Therapies
James Wilson, Professor of Medicine and Pediatrics of Department of Medicine and Director of Gene Therapy Program, University of Pennsylvania
Tachi Yamada, Venture Partner, Frazier Healthcare Partners
Moderated by John Carroll, Editor and Founder, Endpoints News
SESSION III RACE TO THE CURE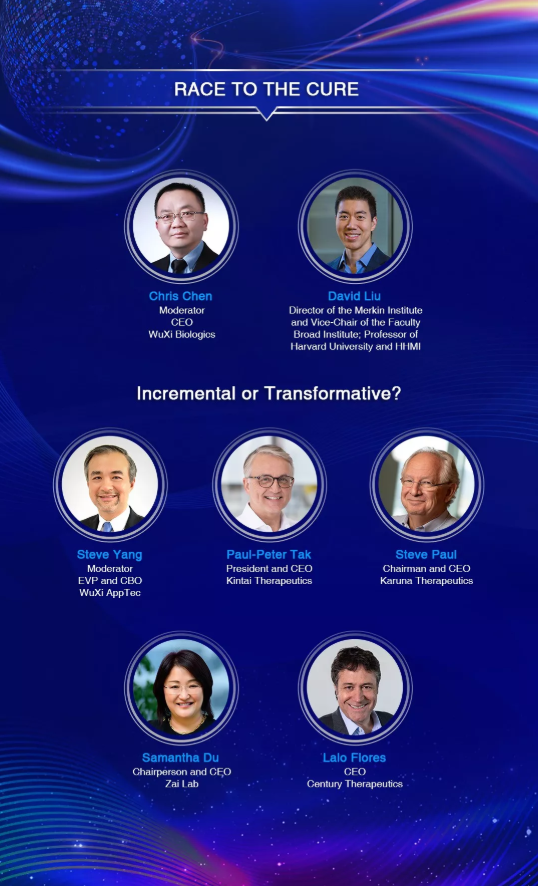 3:50 – 4:10
A Dialogue with David Liu, Director of the Merkin Institute and Vice-Chair of the Faculty, Broad Institute; Professor of Harvard University and HHMI
Moderated by Chris Chen, CEO, WuXi Biologics
4:10 – 4:55
Incremental or Transformative?
Paul-Peter Tak, President and CEO, Kintai Therapeutics
Steve Paul, Chairman and CEO, Karuna Therapeutics
Samantha Du, Chairman and CEO, Zai Lab
Lalo Flores, CEO, Century Therapeutics
Moderated by Steve Yang, EVP and CBO, WuXi AppTec
SESSION IV INNOVATION 2030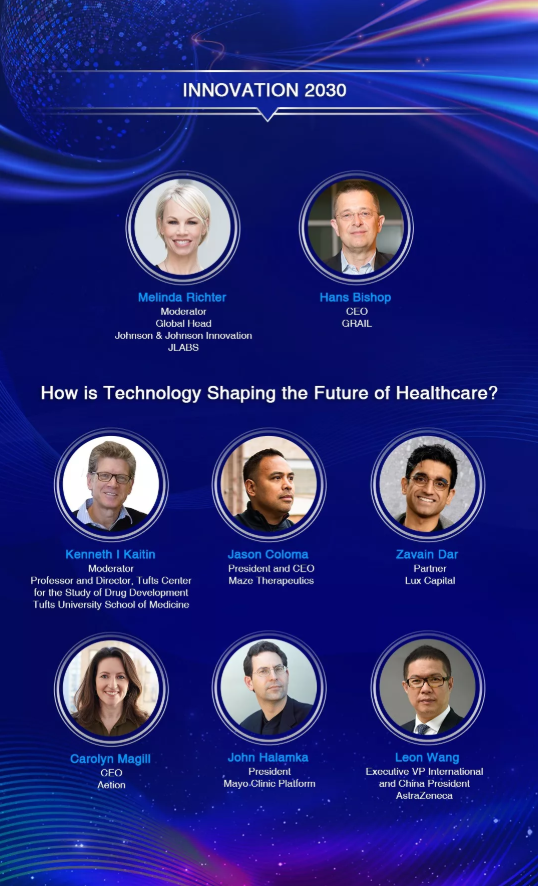 4:55 – 5:15
A Dialogue with Hans Bishop, CEO, GRAIL
Moderated by Melinda Richter, Global Head, Johnson & Johnson Innovation, JLABS
5:15 – 6:00
How is Technology Shaping the Future of Healthcare?
Jason Coloma, President and CEO, Maze Therapeutics
Zavain Dar, Partner, Lux Capital
Carolyn Magill, CEO, Aetion
John Halamka, President, Mayo Clinic Platform
Leon Wang, Executive VP International and China President, AstraZeneca
Moderated by Kenneth Kaitin, Professor and Director, Tufts Center for the Study of Drug Development, Tufts University School of Medicine
6:00 – 6:10
CLOSING REMARKS
Steve Bates, CEO, UK BioIndustry Association
6:10 – 7:00
RECEPTION