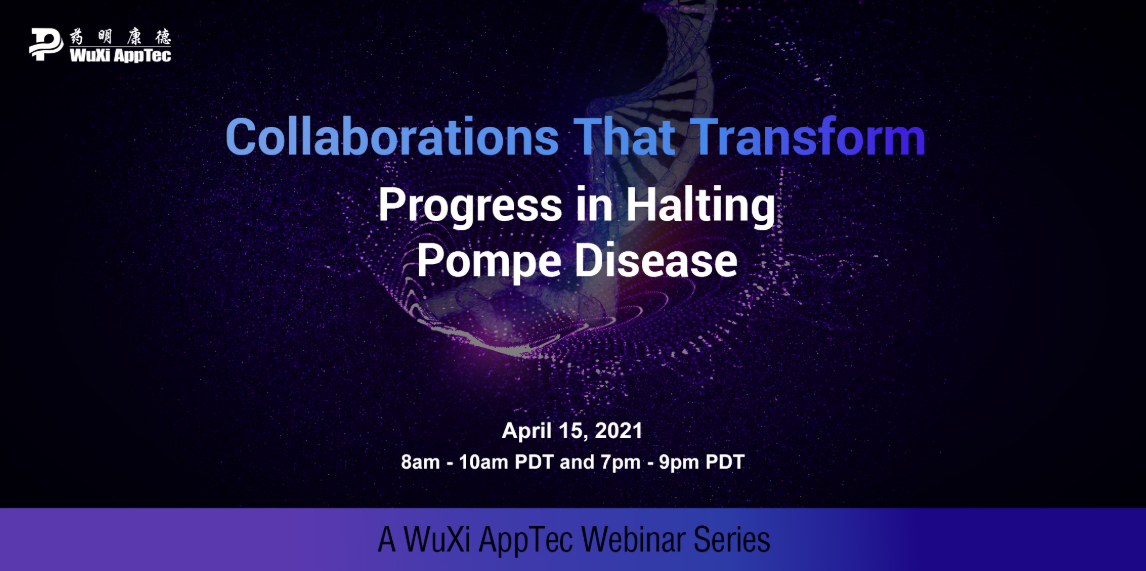 Dear Colleagues and Friends,
Please join us in commemorating International Pompe Day on April 15. We are proud to host a special webinar, "Progress in Halting Pompe Disease," to raise awareness of not only the disease but of ongoing efforts for better care and cure.
This is the fifth complimentary webinar in WuXi AppTec's ongoing "Collaborations That Transform" series, where we convene physicians, drug developers, patients, and advocates to critically examine the current state of rare diseases that impact more than 300 million patients worldwide.
For the convenience of our global audience, the program will be aired at 8am-10am PDT, and 7pm-9pm PDT, respectively. You may register for the complimentary event HERE.
Our featured speakers include:
John Crowley, Chairman & CEO, Amicus Therapeutics
Simone Fishburn, VP & Editor in Chief, BioCentury
Brad Crittenden, Executive Director, Canadian Association of Pompe
Jordi Díaz-Manera, Professor of Neuromuscular Disorders, Translational Medicine and Genetics Honorary Consultant in Clinical Genetics, John Walton Muscular Dystrophy Research Centre, Newcastle University
Tiffany House, Chairman & Board Member, International Pompe Association
Priya Sunil Kishnani, Chen Family Distinguished Professor of Pediatrics, Duke University School of Medicine
Richard Soll, Head of Boston Office and Senior Advisor of Strategic Initiatives, WuXi AppTec
Barry Byrne, Professor and Associate Chair, Director, Powell Gene Therapy Center, Department of Pediatrics, University of Florida
Edward Conner, SVP & CMO, Audentes Therapeutics
Geoff Mackay, President & CEO, AVROBIO
David Chang, CEO, WuXi Advanced Therapies, WuXi AppTec
Hui Cai, Program Chair, VP and Head of Content, WuXi AppTec