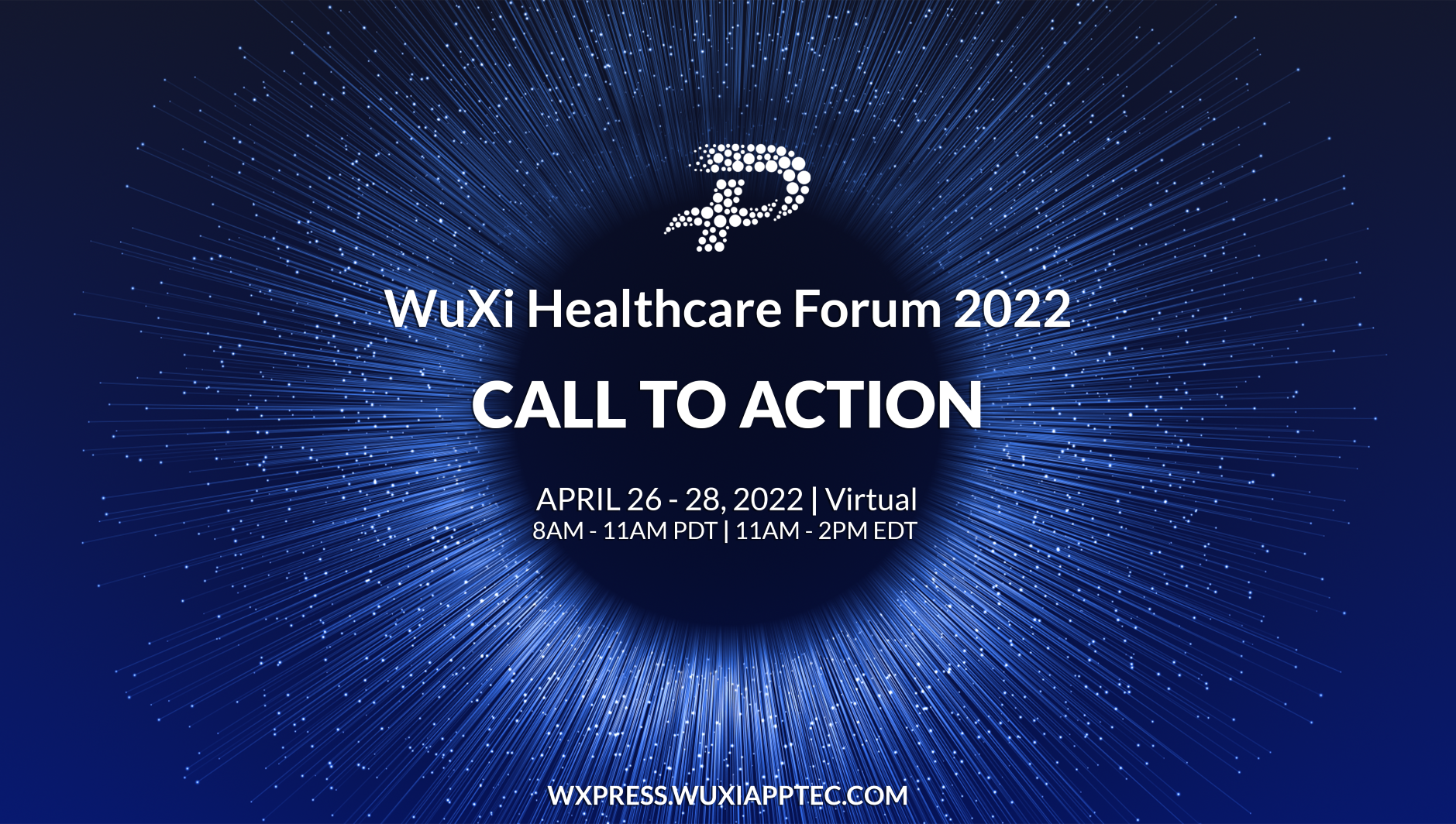 Dear Colleagues and Friends,
We are pleased to report that more than 8,000+ participants from around the world united once again for the 2022 WuXi Healthcare Forum. This year, we gathered under the theme of "Call To Action" to support the World Health Organization's key initiatives in tackling global health challenges head-on, and to collaboratively advance better healthcare solutions.
To our esteemed guest speakers, THANK YOU for leading the way with new thinking and actionable approaches as we work together to shape the future of healthcare.
Special thanks to our supportive partners: UK BioIndustry Association, BioCentury, Biocom, Clarivate, California Life Sciences, Endpoints News, GEN, MBC BioLabs, Medicon Valley Alliance, Pharma Intelligence | Informa, and Swiss Biotech Association.
You are welcome to click the links below to watch this Forum on-demand (All day events or individual sessions).
Day 1 of WuXi Healthcare Forum 2022
• Conference Opening and Welcome
• Chronic Diseases: Rising to the Challenge
• Global Health: From Partnership to Worldwide Access
• Call to Action: The Neuro Challenge
• Call to Action: The Cardiovascular Challenge
• Call to Action: The Cancer Challenge
• Spotlight on Antimicrobial Resistance
Day 2 of WuXi Healthcare Forum 2022
• Moving the Needle on Neurological Disorders
• Spotlight on Parkinson's Disease
• Revitalizing Cardiovascular R&D
• Reaching the Next Frontiers in Cancer Therapies
Day 3 of WuXi Healthcare Forum 2022
• Healthcare 2030: Current and Future Drivers of Success
• Spotlight on Singapore: The Asia-Pacific Translation Hub for Cell and Gene Therapy in Oncology
• Spotlight on UK: The Life Science Cluster Standing on the Shoulders of Giants
• When Technology Meets Healthcare
• Closing Remarks by Hui Cai *** Conference Closing Remarks"
The full Forum agenda and distinguished speaker bios can be found below. Please follow us on Twitter, LinkedIn, and YouTube to stay up-to-date on upcoming WuXi AppTec news and events.