Dear colleagues and friends,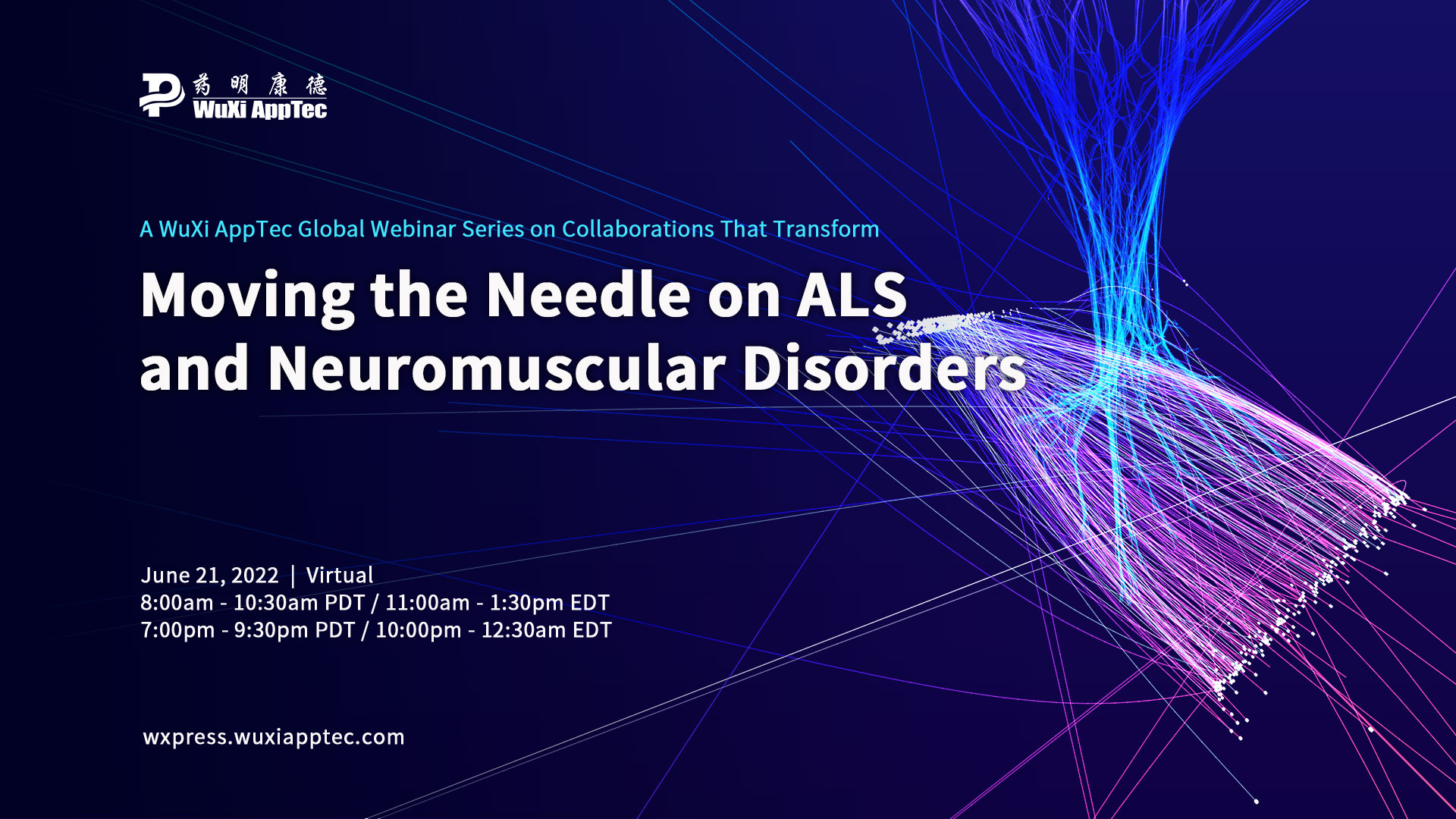 We're excited to share with you the full agenda below for our rare disease virtual event, "Moving the Needle on ALS & Neuromuscular Disorders," which will premiere on June 21st the Global ALS/MND Awareness Day as we continue to shape new thinking in advancing breakthroughs for patients. This complimentary webinar will bring together leading clinicians, patient advocates, researchers, and drug developers who are working together to raise awareness for and overcome barriers to find a cure for ALS and neuromuscular disorders.
Please click here to reserve your event pass. Click here for event speakers' bios and program updates. To accommodate our international audience, this event will premiere from 8:00am – 10:30am PDT (11:00am – 1:30pm EDT), and again from 7:00pm – 9:30pm PDT (10:00pm – 12:30am EDT). For the convenience of our attendees, we will provide all registrants with an on-demand recording after the event.
AGENDA (The time below is AM, Pacific Daylight Time | Virtual via Zoom)
8:00 Welcome
Hui Cai, Program Chair, VP & Head of Content, WuXi AppTec
Calaneet Balas, President & CEO, The ALS Association
Lin Kah Ooi, Founding President, Motor Neurone Disease Association Singapore
8:10 The Unmet Needs in Neuromuscular Disorders
Carsten Bönnemann, Senior Investigator, Neuromuscular & Neurogenetic Disorders of Childhood Section, NINDS
Matthew Harms, Associate Professor of Neurology, Institute for Genomic Medicine, Columbia University
Moderator: Sharon Hesterlee, Chief Research Officer, Muscular Dystrophy Association
8:40 Spotlight on ALS
Kuldip Dave, SVP of Research, The ALS Association
Sabrina Paganoni, Co-Director, Neurological Research Institute at Massachusetts General Hospital; Physician Scientist, Healey & AMG Center for ALS
Jeffrey Rothstein, Director of Brain Science Institute, Director, Robert Packard Center for ALS Research, Johns Hopkins University
9:10 In the Pipeline
Neil Cashman, CSO, ProMIS Neurosciences; Professor Emeritus, University of British Columbia
Michael McGrath, UCSF Emeritus Professor of Medicine; CSO & Founder, Neuvivo
Robert Scannevin, CSO, Verge Genomics
Fernando Vieira, CEO & CSO, ALS Therapy Development Institute
Moderator: Murali Gopalakrishnan, Global Head, Neuroscience Search & Evaluation, Corporate Strategy Office, AbbVie
9:50 Challenges and Opportunities in New Modalities
Jim Burns, CEO, Locanabio
Clive Svendsen, Professor & Executive Director, Board of Governors Regenerative Medicine Institute
Moderator: Bibhash Mukhopadhyay, Managing Partner, Sound Bioventures
10:20 The Future of Genetic and Personalized Medicines
Michael Snyder, Professor & Chair, Department of Genetics; Director, Center for Genomics and Personalized Medicine, Stanford University
10:25 Closing Remarks
Richard Soll, Head of Boston Office and Senior Advisor of Strategic Initiatives, WuXi AppTec