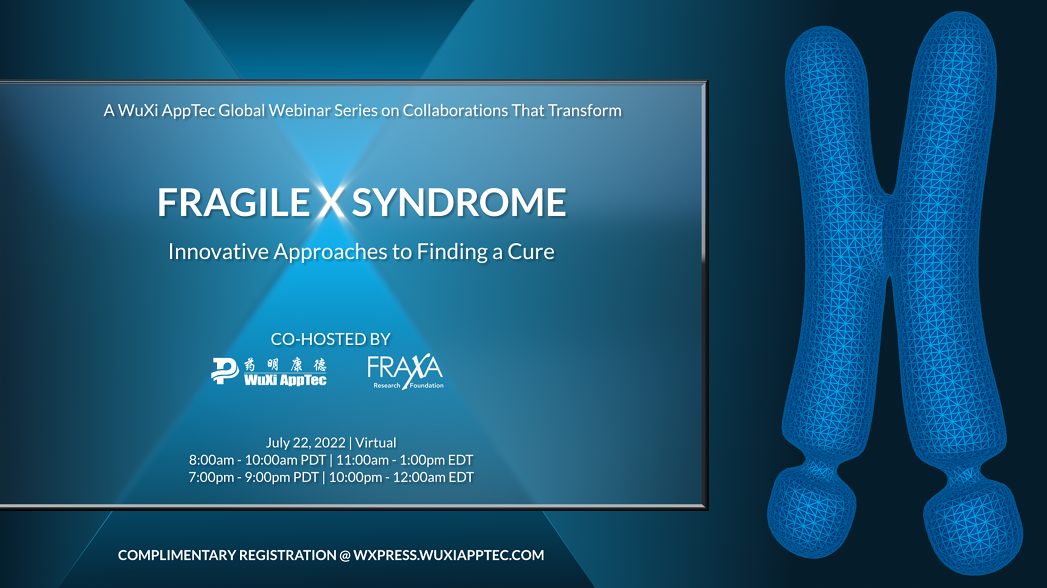 In commemorating Fragile X Syndrome Awareness Day on July 22nd, we are proud to have co-hosted the special virtual event, "Fragile X Syndrome: Innovative Approaches to Finding a Cure," again alongside the FRAXA Research Foundation. Together we were able to enhance public awareness of Fragile X, and provide a global stage for key stakeholders to collaborate in order to overcome any barriers standing in the way of finding a cure for this devastating rare disease.
This is the 10th episode of our "Collaborations That Transform" series dedicated to rare disease patients. At WuXi AppTec, we are committed to providing a platform serving to catalyze transformational change for patients.
Special thanks to our 30+ distinguished speakers, and our supportive partners: Fragile X Association of Australia, Fragile X Association of China, Fragile X Society India, Fragile X Syndrome Parent's Group Argentina, Fragile X South Africa, and Fragile X Center Georgia.
You are welcome to watch the on-demand video by clicking on the banner image above, or by visiting our WuXi AppTec YouTube Channel. Please follow us on Twitter and LinkedIn, and visit our WXPress website to stay up-to-date on upcoming WuXi AppTec news and events.
Below are our past events in the "Collaborations that Transform" series.
2022:
Moving the Needle on ALS & Neuromuscular Disorders
2021:
DMD: Charting the Path for New Therapeutics and Better Care
Fragile X Syndrome: In Pursuit of a Cure
Winning the War on Huntington's Disease
Progress in Halting Pompe Disease
WuXi Rare Disease Awareness Concert on International Rare Disease Day 2021
2020:
Emerging Opportunities in Multiple Sclerosis and Neuroscience
Advances in Rare Diseases: Hemophilia