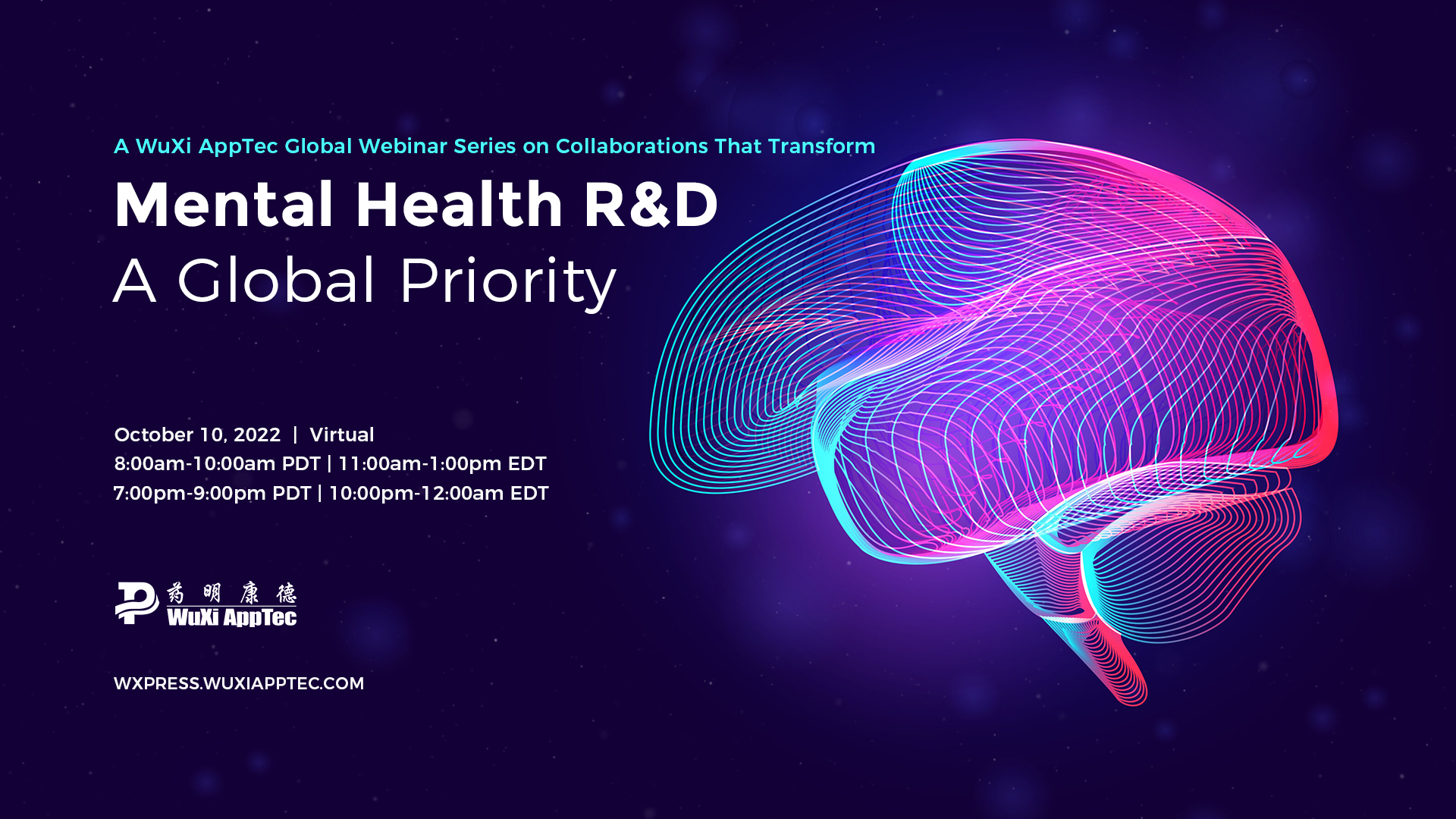 In commemorating World Mental Health Day on October 10th, we are proud to have hosted the virtual event, "Mental Health R&D: A Global Priority," gathering some of the world's leading researchers, drug developers, and clinicians to critically examine the state of treatment, and better align our R&D efforts to the WHO's initiative in Making Mental Health & Well-Being for All a Global Priority.
This is the 11th episode of our WuXi AppTec's "Collaborations That Transform" series highlighting the importance of working collaboratively to solve industry-wide problems so that we can bring transformational medicines faster to patients. In this spirit, we've hosted a series of events this year, including WuXi Global Forum 2022, WuXi Healthcare Forum 2022, Rising to the Challenge: Healthy Aging Forum 2022, Fragile X Syndrome: Innovative Approaches to Finding a Cure, and Moving the Needle on ALS & Neuromuscular Disorders.
To view the on-demand videos of each session, please visit our YouTube channel.
Special thanks to our distinguished global leaders who spoke at this event, and our supportive partners.
Please follow us on Twitter and LinkedIn, and visit our WXPress website to stay up-to-date on upcoming WuXi AppTec news and events.
Agenda (The time below is AM, Pacific Daylight Time)
8:00 Welcome
Hui Cai, Program Chair, VP and Head of Content, WuXi AppTec
8:05 The Urgency to Address Mental Health
Cara Altimus, Senior Director, Center for Strategic Philanthropy, Milken Institute
Daniel Fung, CEO, Institute of Mental Health in Singapore
John Krystal, Chair, Department of Psychiatry; Robert L. McNeil, Jr. Professor of Translational Research, Yale University
8:35 Latest Therapeutic Developments in Mental Health
John Dunlop, Head of Research and Development, Neumora
Murali Gopalakrishnan, Global Head, Neuroscience Search & Evaluation, Corporate Strategy Office, AbbVie
Barry Greene, CEO and Member of Board of Directors, Sage Therapeutics
Ekaterina Malievskaia, Co-Founder and Chief Innovation Officer, COMPASS Pathways
Brigitte (Bigs) Robertson, CMO, Delix Therapeutics
Moderator: Lauren Martz, Executive Director, Biopharma Intelligence, BioCentury
9:25 New Technologies. New Medicines. New Approaches.
Ben Robbins, General Partner, GV
Daphne Zohar, Founder & CEO, PureTech Health
9:45 Closing Remarks
Richard Soll, Head of Boston Office and Senior Advisor of Strategic Initiatives, WuXi AppTec