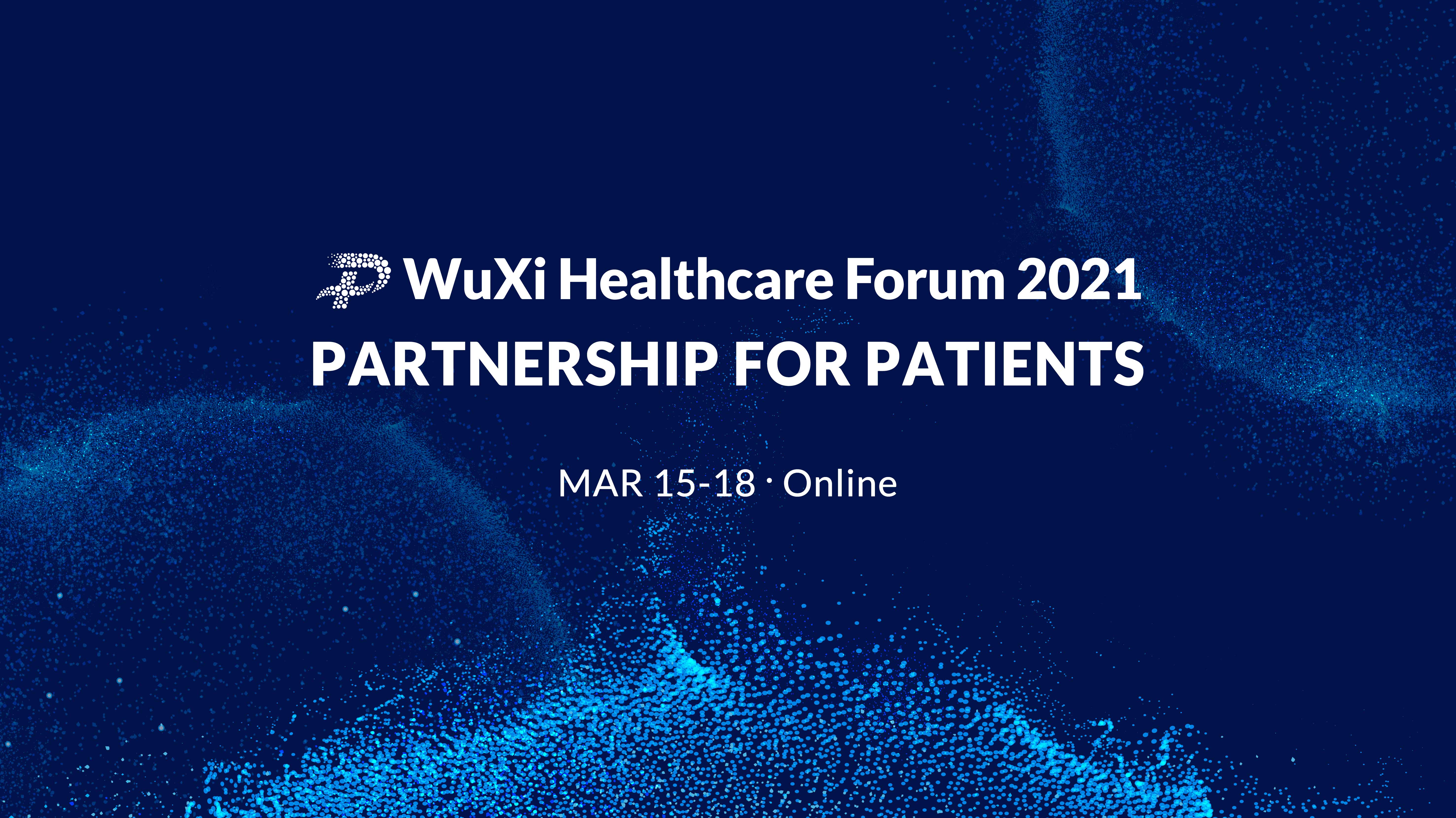 Dear colleagues,
We are pleased to announce the WuXi Healthcare Forum 2021 will launch virtually March 15-18, 2021.
This complimentary event, titled "Partnership for Patients," will bring together 6,000+ colleagues from around the world who are working to address global healthcare challenges with global solutions. We will explore critical issues that impact our ability to advance medicines faster for patients and to shape the future of healthcare. The forum will delve into these timely topics through a variety of mediums to include plenary sessions, satellite forums by our partners, CEO roundtables, and regional tracks.
We are greatly honored by the support from our distinguished speakers below (partial list), and we invite you to join the conversation. Please click HERE to register.
Aki Tobaru, Partner, Remiges Ventures
Alex Mayweg, Managing Director, Versant Ventures
Andy Plump, President of R&D, Takeda
Anya Eldan, VP and Head of Startup Division, Israel Innovation Authority
Barry Heavey, Managing Director, Accenture
Bernd Goergen, Partner, High-Tech Gruenderfonds
Bernhardt Zeiher, CMO, Astellas Pharma
Caroline Xu, Co-Founder & CEO, ViGeneron
Casper Breum, Senior Advisor, Lundbeckfonden Ventures
Chandra Leo, Partner, HBM Partners
Chris Kim, Managing Director, Novatio Ventures
Chris Martin, CEO, Co-Founder and Director, ADC Therapeutics
Chris Molloy, CEO, Medicines Discovery Catapult
Cyriac Roeding, Co-Founder and CEO, Earli
Damian O'Connell, CEO, Experimental Therapeutics Development Centre, A*STAR
Dan Wang, Head of Johnson & Johnson Innovation, Asia Pacific
Danny Soon, CEO, Consortium for Clinical Research and Innovation Singapore
Darrin Morrissey, CEO, National Institute for Bioprocessing Research and Training, Ireland
David Aviezer, Chairman, MetaboMed and FRONT BioPharma; Associate Professor, Adjunct, Bar-Ilan University
Edward Hu, Vice Chairman and Chief Investment Officer, WuXi AppTec
Emmanuel Dowdall, Global EVP and CEO Asia Pacific, IDA Ireland
Ena Prosser, Partner, Fountain Healthcare Partners
Geert-Jan Mulder, Managing Partner, Forbion
Genya Dana, Head of Health Care Transformation, World Economic Forum
George Vradenburg, Convener, Global CEO Initiative on Alzheimer's Disease; Co-Chair, Davos Alzheimer's Collaborative; Chairman & Co-Founder, UsAgainstAlzheimer's
Haru Morita, Chairman & CEO, Modalis Therapeutics
Hui Cai, Forum Chair; VP and Head of Content Division, WuXi AppTec
Ian Tomlinson, Chairman, Apollo Therapeutics; Chairman, Start Codon
Ioannis Sapountzis, Corp. SVP and Global Head of BD&L, Boehringer Ingelheim
James Bradner, President, Novartis Institutes for Biomedical Research
James Jungkue Lee, CEO, Bridge Biotherapeutics
Jason Kelly, Co-Founder and CEO, Ginkgo Bioworks
Jim Naismith, Director, Rosalind Franklin Institute
Jin-San Yoo, President & CEO, PharmAbcine
Jordi Montserrat, Co-Founder and Managing Partner, Venturelab
Julian Adams, CEO, Gamida Cell
Julie Brady, Business Development Manager, Drug Discovery Unit, University of Dundee
Justin Kao, Venture Partner, Khosla Ventures
Kathryn Chapman, Deputy Director, Milner Therapeutics Institute, University of Cambridge
Khoo Shih, Managing Director, Life Sciences Investments, Temasek
Kyoung Kim, EVP, CHA Biotech
Lauren Lee, SVP, Head of Global R&D Innovation, Hanmi Pharmaceuticals
Laurie Glimcher, President & CEO, Dana-Farber Cancer Institute
Leah Klapper, CTO, FutuRx
Leon Wang, EVP of International & China President, AstraZeneca
Makoto (Mark) Ohori, Partner, UTokyo Innovation Platform
Marcus Kostka, CEO, Abalos Therapeutics
Marianne De Backer, Head of Strategy, BD&L and Member of the Pharmaceuticals Executive Committee, Bayer
Mark Noguchi, SVP and Head of Business Development, Chugai Pharmaceutical
Martin Shanahan, CEO, IDA Ireland
Mary Kerr, CEO, NeRRe Therapeutics
Mayu Morishima, Executive Officer & Biotech Lead Capitalist, Beyond Next Ventures
Michael Altorfer, CEO, Swiss Biotech Association
Michael Curtis, President of R&D, eGenesis
Misti Ushio, CEO, TARA Biosystems
Nisa Leung, Managing Partner, Qiming Venture Partners
Opher Shapira, CEO, Yeda R&D, The Weizmann Institute of Science
Piers Ingram, CEO, Hummingbird Bioscience
Rafaèle Tordjman, Founder & CEO, Jeito Capital
Ram Aiyar, CEO, Korro Bio
Sakae Asanuma, President, Taiho Ventures
Steve Yang, Co-CEO, WuXi AppTec
Tai Harada, Manager & VP of US Operation, Fast Track Initiative
Ulf Grawunder, Chief Operating Officer and Chief Development Officer, NBE Therapeutics
Vijay Pande, General Partner, Andreessen Horowitz
XQ Lin, Group President & CEO, Esco Group; Chairman, EVX Ventures
Yanay Ofran, Founder & CEO, Biolojic Design
Yaron Daniely, Head of aMoon Alpha; Investment Lead, aMoon Velocity