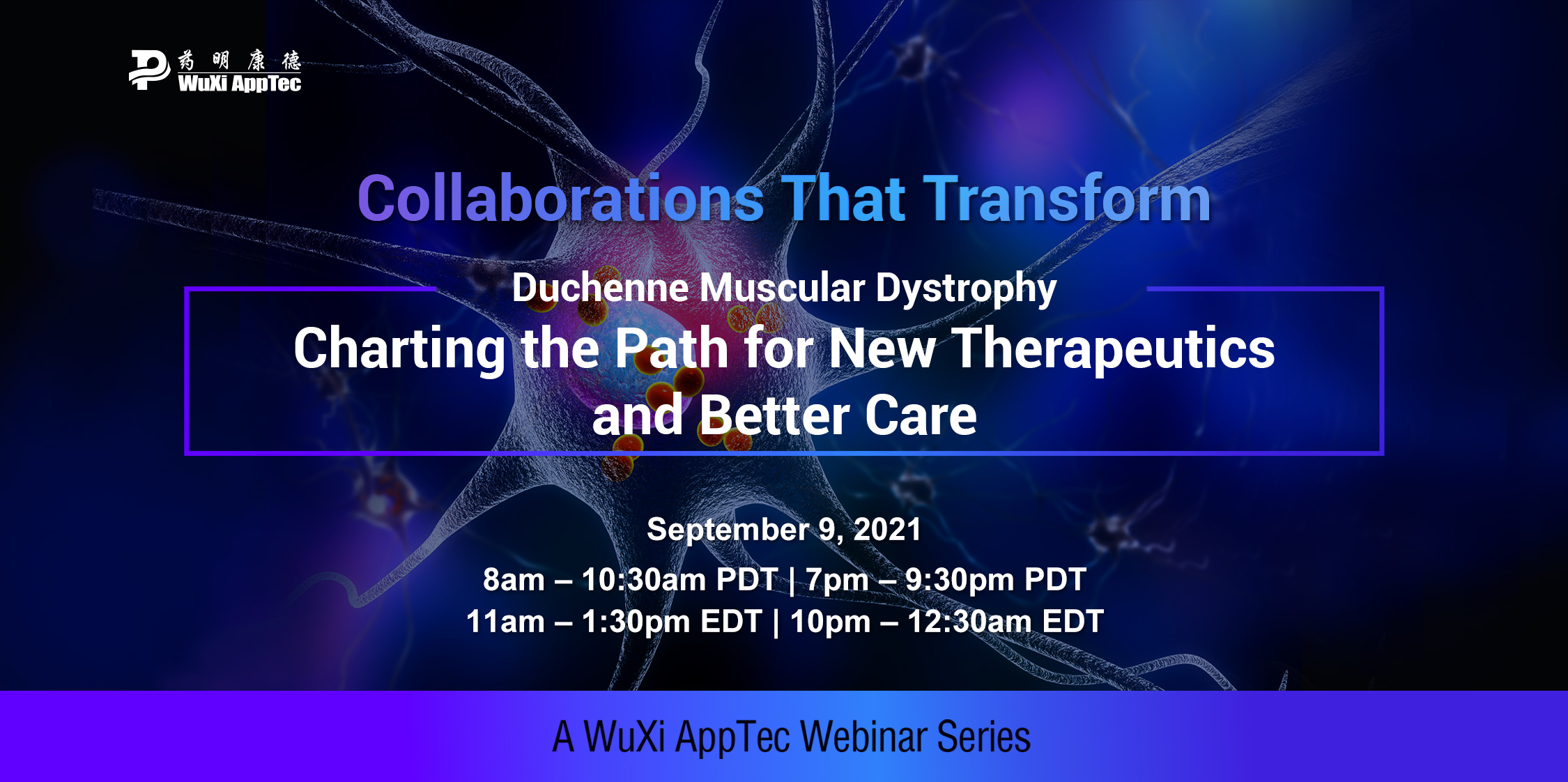 Dear colleagues and friends,
We are delighted to share with you below the full agenda for WuXi AppTec upcoming virtual event - "Duchenne Muscular Dystrophy: Charting the Path for New Therapeutics and Better Care," which will take place on Sept. 9. Please also enjoy the event trailer and agenda trailer.
This complimentary event is co-organized with Parent Project Muscular Dystrophy (PPMD) and CureDuchenne. Over 20 top speakers, including drug developers, researchers, clinicians, and patients, will share their insights in collaborating to find new therapeutics and better care.
For the convenience of our global audience, the program will be aired on Zoom at 8am - 10:30am PDT (11am -1:30pm EDT) and 7pm - 9:30pm PDT (10pm - 12:30am EDT), respectively. We will send a replay link after the event to those who registered but couldn't make it or stay through the entire webinar. Please click HERE to register.
AGENDA (Thursday, Sept. 9) for the 1st broadcast
8:00 am (PDT)/11:00 am (EDT) Welcome
• Hui Cai, VP and Head of Content, WuXi AppTec
• Pat Furlong, Founding President & CEO, Parent Project Muscular Dystrophy
• Debra Miller, CEO & Founder, CureDuchenne
• Filippo Buccella, Founder, Parent Project Italy APS
• Huigu Chen, President, Shanghai Jiai Myopathy Care Center, China
• Tali Kaplan, Co-Founder & CEO, Little Steps Association for Patients with Duchenne & Becker Muscular Dystrophy, Israel
• Sherena Loh, Director, Muscular Dystrophy Association (Singapore)
8:15 am (PDT)/11:15 am (EDT) Clinical Research and Practices
• Kevin Flanigan, Director, Center for Gene Therapy, Professor, Pediatrics & Neurology, Nationwide Children's Hospital
• Stanley Nelson, Professor of Human Genetics, Center for Duchenne Muscular Dystrophy, David Geffen School of Medicine at UCLA
• Richard Parad, Associate Professor of Pediatrics, Harvard Medical School, Department of Pediatric Newborn Medicine, Brigham and Women's Hospital
• Moderator: Hawken Miller, Features Writer, BioNews
8:45 am (PDT)/11:45 am (EDT) A Conversation between Pat Furlong, Founding President & CEO, Parent Project Muscular Dystrophy and Debra Miller, CEO & Founder, CureDuchenne
8:55 am (PDT)/11:55 pm (EDT) Patient Story - The Nilson Family
9:00 am (PDT)/12:00 am (EDT) What can we do to bring medicines to DMD patients around the world faster?
• Michael Binks, VP & Head of Clinical Research in the Rare Disease Research Unit at Pfizer
• Paula Clemens, Professor & Vice Chair, Neurology, University of Pittsburgh School of Medicine
• Nathalie Goemans, Professor, Neuromuscular Reference Centre for Children, Department of Pediatric Neurology, University Hospitals Leuven, Belgium
• Moderator: Timothy Franson, Principal, Faegre Drinker Consulting and formerly VP Global Regulatory Affairs, Eli Lilly & Co and Chief Medical Officer of YourEncore
9:30 am (PDT)/12:30 pm (EDT) New Targets. New Modalities. New Directions.
• Rhonda Bassel-Duby, Professor, Department of Molecular Biology, University of Texas Southwestern Medical Center
• Ashish Dugar, SVP & Global Head of Medical Affairs, Dyne Therapeutics
• Jane Larkindale, VP, Clinical Sciences, PepGen
• Art Levin, CSO, Avidity Biosciences
• Stuart Peltz, Founder & CEO, PTC Therapeutics
• Moderator: Richard Soll, Head of Boston Office and Senior Advisor of Strategic Initiatives, WuXi AppTec
10:20 am (PDT)/13:20 pm (EDT) 10-Year Vision
• Michael Binks, VP & Head of Clinical Research in the Rare Disease Research Unit at Pfizer
• Yi Dai, Associate Professor, Department of Neurology, Peking Union Medical College Hospital, China
• Xihua Li, Director, Department of Neuromuscular Disease, Children's Hospital of Fudan University, China
• Stanley Nelson, Professor of Human Genetics, Center for Duchenne Muscular Dystrophy, David Geffen School of Medicine at UCLA
• Richard Parad, Associate Professor of Pediatrics, Harvard Medical School, Department of Pediatric Newborn Medicine, Brigham and Women's Hospital
• Stacey Tay, Senior Consultant, Department of Paediatrics, Khoo Teck Puat - National University Children's Medical Institute, National University Hospital, Singapore
10:30 am (PDT)/13:30 pm (EDT) Closing
• Hui Cai, VP and Head of Content, WuXi AppTec
Previous episodes of the "Collaborations that Transform" series can be found below:
2021:
• Fragile X Syndrome: In Pursuit of a Cure
• Winning the War on Huntington's Disease
• Progress in Halting Pompe Disease
• WuXi Rare Disease Awareness Concert on International Rare Disease Day 2021
2020:
• Emerging Opportunities in Multiple Sclerosis and Neuroscience
• Spinal Muscular Atrophy (SMA)
• Advances in Rare Diseases: Hemophilia