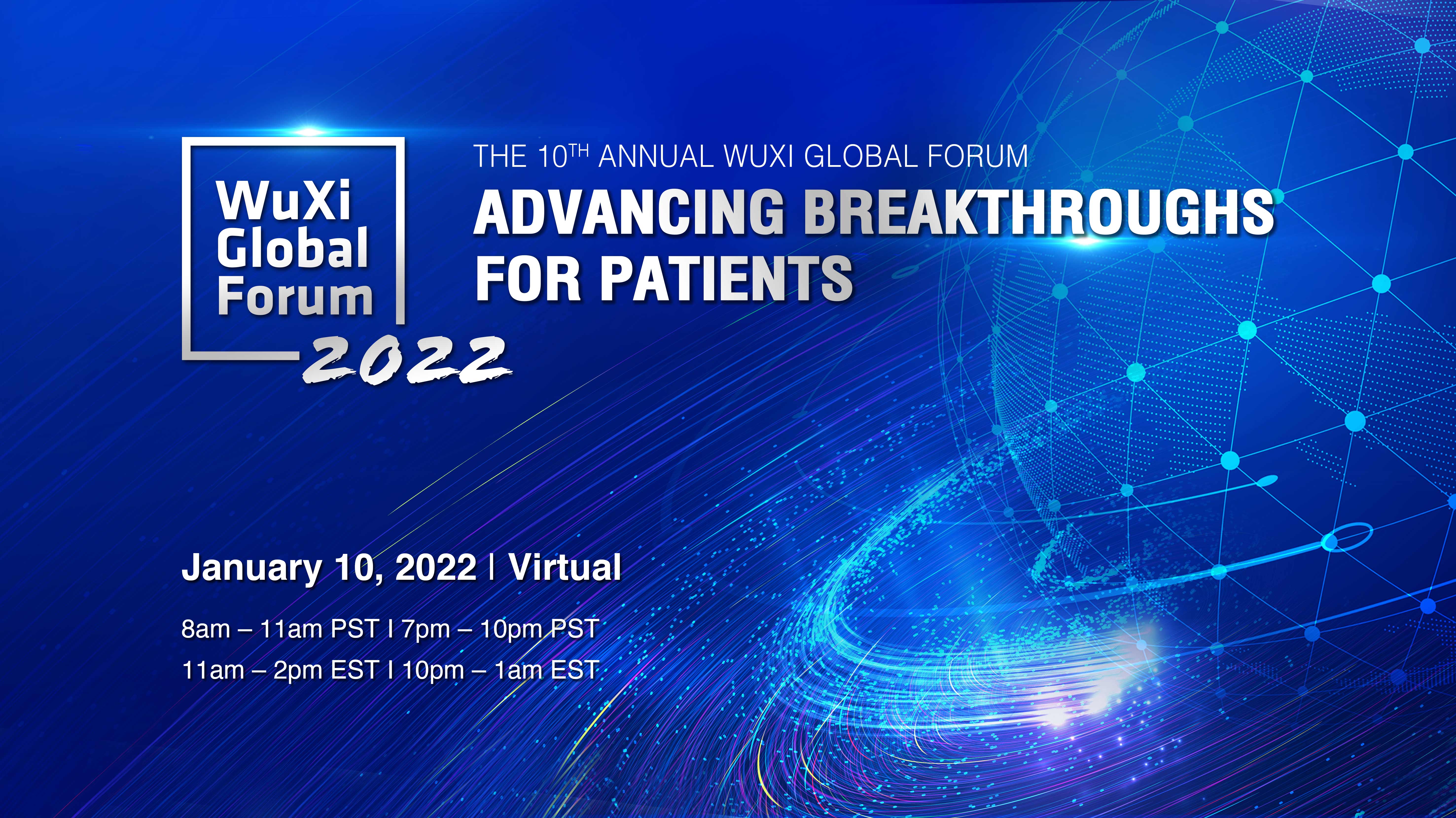 Dear colleagues and friends,
We are delighted to share with you below the full agenda for the 10th annual WuXi Global Forum, which will unite 6,000+ colleagues from around the world to tackle some of the biggest challenges facing our industry and to catalyze actionable solutions for patients.
Taking place on Jan 10, 2022, this 3-hour complimentary and virtual 10-year special edition will focus on "Impact." What impact have we had on our patients during the past 10 years? How will technologies shape breakthroughs in the next decade? What can we do collectively and collaboratively to make a bigger social impact? We will also pay special tribute to two industry giants and our past speakers, the late Jose Baselga and the late Tachi Yamada. Their impacts are far-reaching, and they are inspirations for us all.
Click HERE to reserve your complimentary event pass, or access the on-demand video. For speaker bios and program updates, please click HERE.
The WuXi Global Forum will be aired twice on Zoom at 8am PST/11am EST and 7pm PST/10pm EST, respectively. Shown below is the AM schedule.

AGENDA (Pacific Standard Time on Jan 10, 2022 | Digital Global Program)
8:00 – 8:05
Welcome
Hui Cai, Program Chair, VP and Head of Content, WuXi AppTec
8:05 – 8:10
Opening Remarks
Minzhang Chen, Co-CEO, WuXi AppTec
8:10 – 8:45
Opening Plenary: Changing the Games of R&D Productivity
David Berry, Founder and CEO, Valo Health
Diego Miralles, CEO, Laronde
Roger Perlmutter, Chairman & CEO, Eikon Therapeutics
Henrijette Richter, Managing Partner, Sofinnova Partners
Session Leader: Jorge Conde, General Partner, Andreessen Horowitz
8:45 – 9:10
A Special Tribute to Dr. José Baselga
A Conversation between Susan Galbraith, EVP, Oncology R&D, AstraZeneca and David Reese, EVP of R&D, Amgen
9:10 – 9:30
A Special Tribute to Dr. Tachi Yamada
A Conversation with James Wilson, Professor of Medicine and Pediatrics of Department of Medicine, and Director of Gene Therapy Program, University of Pennsylvania. Moderated by John Carroll, Chief Editor & Founder, Endpoints News
9:30 – 10:10
Investing for Social Impact
Christiana Bardon, Co-Managing Partner of BioImpact Capital, MPM Capital
Jürgen Eckhardt, SVP and Head of Leaps by Bayer
Alice Pomponio, Managing Director, American Cancer Society BrightEdge
Glenn Rockman, Founder and Managing Partner, Adjuvant Capital
Session Leader: Laura Kleiman, Founder and CEO, Reboot Rx
10:10 – 10:50
Delivering on the Promise of New Modalities
Debora Barton, CMO, Carisma Therapeutics
John Houston, President and CEO, Arvinas
Eric Kelsic, Founder & CEO, Dyno Therapeutics
Devyn Smith, CEO, Arbor Biotechnologies
Session Leader: Ryan Cawood, CSO, WuXi Advanced Therapies and OXGENE
10:50 – 11:10
Closing Keynote
A Conversation with Todd Golub, Director, Broad Institute of MIT & Harvard. Moderated by Kevin Davies, Executive Editor, The CRISPR Journal and GEN Biotechnology; and Author, Editing Humanity